2021 INTERNATIONAL SWIMMING LEAGUE – SEASON 3, MATCH 16 – PLAY-OFFS MATCH 5
Lane Assignments
Lane 1 & 2: LA Current
Lane 3 & 4: Energy standard
Lane 5 & 6: London Roar
Lane 7 & 8: DC Trident
The penultimate game of the 2021 ISL Playoffs starts today! Energy Standard, London Roar, the LA Current and the DC Trident will compete against each other in their latest campaign to reach the 2021 competition final. While it's already almost certain that Energy Standard, the London Roar and the LA Current will compete in the final, this match will give fans a bit of a taste of what to expect on December 3rd and 4th. The DC Trident, although the underdog in this competition, has swum well this season and will not settle down in 4th place without a fight.
100 butterfly ladies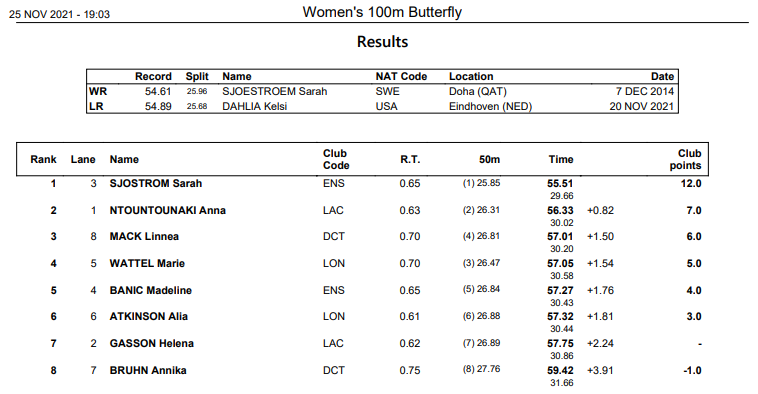 Energy standards Sarah Sjostrom shot the opening 50 out of 100 women's flies and ran in 25.85, under his own world record pace. Sjostrom extended her lead over the second 50, but fell off the world record pace and eventually hit the wall in 55.51, still nearly a second ahead of runner-up. Anna Ntountounaki of the LA current. Sjoström LA's Jackpots Helena Gasson and DCs Annika Bruhn. Energy Standard takes an early lead with 16 points.
100 butterflies gentlemen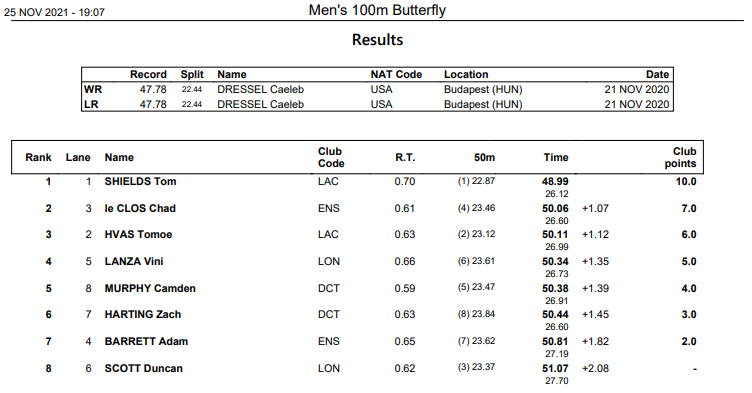 Tom Shields of the LA Current took the early lead in the men's 100 fly and never gave up. Shields blew the field and was both the only man to complete the 50-meter turn in under 23 seconds (22.87) and the only man to finish the race in 50 seconds, clocking in at 48.99. Shields used his world-class underwater craft to blast past the field at every turn. Second place Chad le Clos of Energy Standard collected 7 points for his club in 50.07, two seconds off his best time. Shields manages a jackpot above London's Duncan Scott who becomes 8th in 51.07. Tomoe Hvas from LA took 3rd to give the current total of 16 points in the race versus Energy's 9 points and London's 5 points.
200 backstroke ladies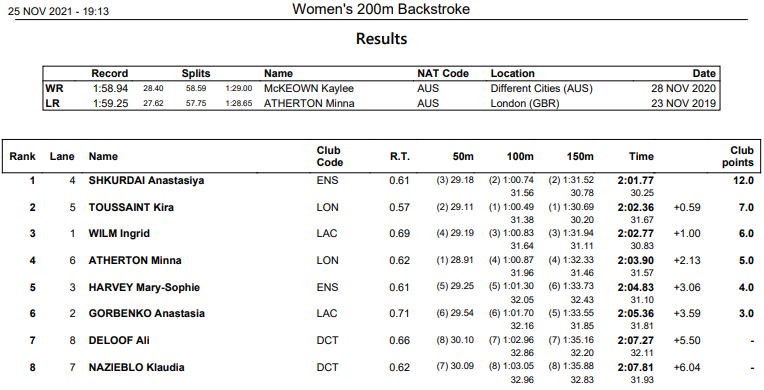 London Roar's Kira Toussaint looked like she had the race in the bag until the last 25 meters when Energy Standard's Anastasiya shkurdai made up for the deficit and drove her down to get her hand on the wall first in 2:01.77 against Toussaints 2:02.36. Toussaint and Shkurdai had very similar splits to the last 50 when Shkurdai scored a 30.25 against Toussaint's 31.67. London Minna Atherton finished 4th while both swimmers of the DC Trident hit the jackpot from Shkurdai.
200 backstroke men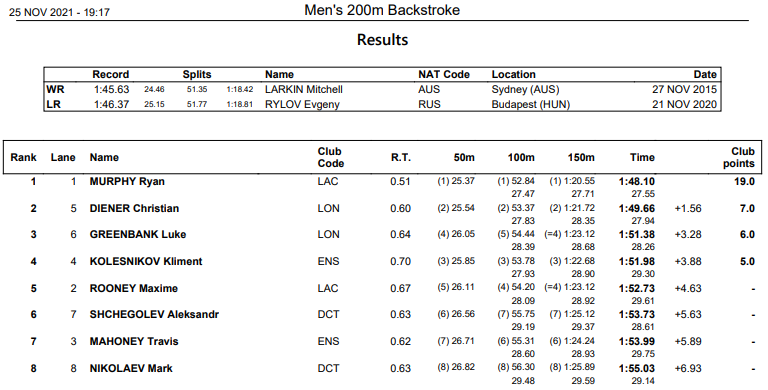 Ryan Murphy dominated the men's 200 backstroke, culminating in a 19-point victory, winning half the field. The London Roar did well to finish 2nd and 3rd, earning a total of 13 points in the race. Nevertheless, Murphy's dominance propels the LA Current to a 5 point lead over Energy Standard and puts them first in the team standings. As with the women's 200 backstroke, both swimmers of the DC Trident are points stolen by Murphy's jackpot.
Update team points
LA Current – ​​51 points
Energy standard – 46 points
London Roar – 38 points
DC Trident – ​​​​12 points
200 breaststroke ladies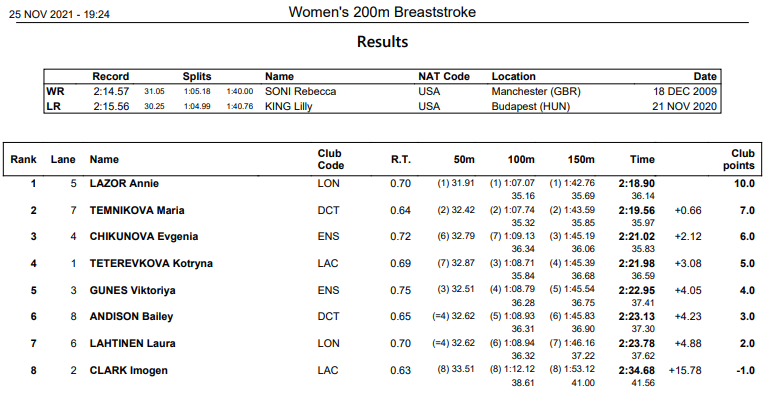 London Annie Lazor took the Roar's first win of the day with a 2:18.90. DCs Maria Temnikova ran 2nd all race and eventually finished 2nd, holding back half a load of Energy Standard's Yevgenia Chikunova. LA's Imogen Clark failed to meet the minimum time standard and was thrown into the jackpot by Lazor as well as deducted 1 point. Energy Standard overtakes the LA Current for the lead in the team standings, 56 points to 55 points, respectively.
200 breaststroke men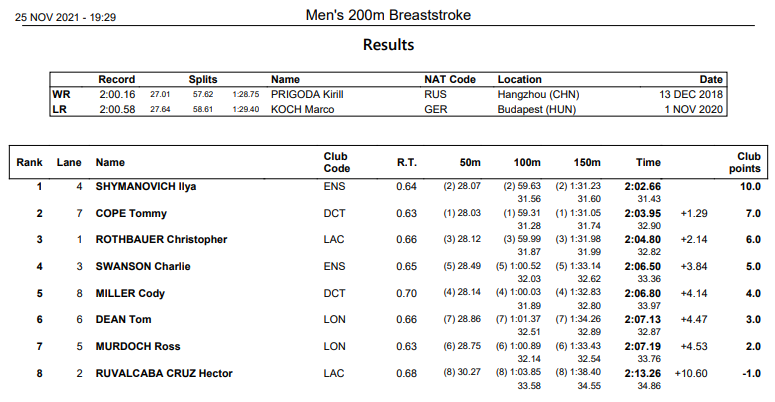 DCs Tommy Cope led the entire race until the last 25 meters when chased by Energy Standard's Ilya Shymanovich who blasted a 31.43 over the last 50 meters to take the win. Shymanovich's last 50 was the second fastest split of his race. LAs Christopher Rothbauer got a 3rd place Hector Cruz placed 8th and got a jackpot and a point deducted for missing the minimum time standard. The London Roar only earned 5 points from this race, while Energy Standard comes away with 15 points.
4 x 100 women's freestyle relay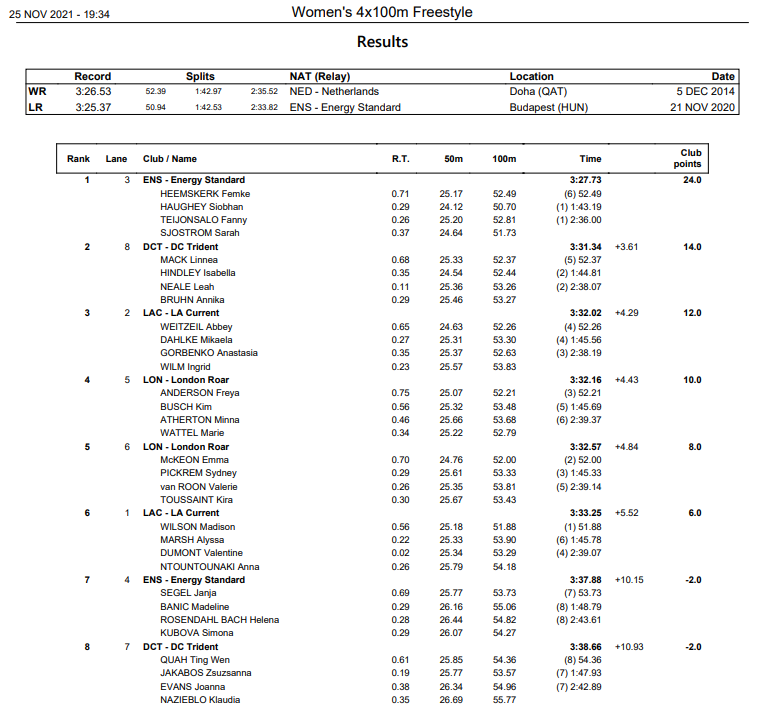 Energy Standard's 'A' team may have had a rough start with a 52.49 lead-off leg, but that was quickly forgotten when Siobhan Haughey produced a distribution of 50.70 to put Energy in the lead. Haughey's split comes in as the 8th fastest freestyle relay split of all time (excluding splits on mixed relays). Sarah Sjostrom also posted a 51.73 to anchor Energy's squad, finishing in a total time of 3:27.73, nearly 4 seconds ahead of the runners-up of the DC Trident. Both Energy Standard's 'B' team and DC's 'B' team both fell victim to Energy's jackpot, giving Energy Standard a total of 24 points in the race. The DC Trident takes away 14 points while the London Roar collects 18 thanks to 4th and 5th place. The LA Current also manages 18 points, specifically Madison Wilson started for LA's 'B' team in a 51.88, the 3rd fastest split in the entire field.
Update team points
Energy standard – 93 points
LA Current – ​​78 points
London Roar – 73 points
DC Trident – ​​45 points
men's 50 freestyle

London Kyle Chalmers and energy Am Proud fought a close battle in the men's 50 freestyle, although it was Chalmers in his characteristic back-end speed that propelled him 0.04 to the wall ahead of Proud for the win. Chalmers also earns a 1 point jackpot over DC's Sergey Shevtsov. London scores a total of 15 points in the men's 50 freestyle, better than Energy Standard's 9 points, LA's 9.5 points and DC's 3.5 points. LAs Apostolos Christou and DCs Ryan Hoffer tied for 5th and therefore they win 3.5 points each.
women's 50 freestyle

Men's 200 IM
Ladies 200 IM
Men's 50 breaststroke
Women's 50 breaststroke
Men's 4 x 100 Freestyle Relay
50 backstroke ladies
men's 50 backstroke
400 women's freestyle
400 freestyle men
4 x 100 medley women's relay
4 x 100 medley men's relay
Team Scores – Day 1:
https://bbin-csdn.com