[ad_1]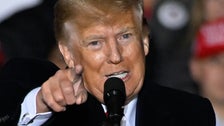 In an opinion piece published Monday, Baker wrote that many prominent Republicans and major donors don't actually believe Trump's election lies and would love for him to "go quietly away."
"It is a desire expressed as fervently in private as it is assiduously and dexterously avoided in public," said Baker, who served as the conservative newspaper's editor-in-chief until 2018.
Republicans worry Trump leading the presidential ticket in 2024 will be a "lose-lose" situation and the GOP is "is too important a political institution to continue to be a vehicle for this grand deception," he added.
"Will someone speak that truth at least?" Baker concluded.


[ad_2]