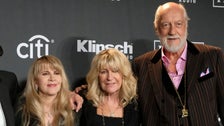 The keyboardist and composer died in a hospital after a short illness, and the announcement of her death inspired Stevie Nicks and Mick Fleetwood to post tributes to McVie, who wrote some of the band's biggest hits, including "Don't Stop," "You Make Loving Fun" and "Little Lies."
In a tweet, Nicks honored her bandmate ― whom she described as her "best friend in the whole world since the first day of 1975" ― by posting the lyrics of "Hallelujah," a song by Haim that is about mourning a "best friend" who has "been with me all along," according to People.
The singer also included a handwritten note in which she explained that she didn't learn of McVie's still-undisclosed illness until Saturday and had hoped to fly to London to see her:
"I wanted to be in London; I wanted to get to London — but we were told to wait. So, since Saturday, one song has been swirling around in my head, over and over and over. I thought I might possibly get to sing it to her, and so, I'm singing it to her now. I always knew I would need these words one day."
Fleetwood Mac drummer Mick Fleetwood also honored McVie with an Instagram post, writing that he would "miss everything about" the beloved musician he called his "dear sweet friend."
As of Wednesday afternoon, McVie's former bandmate guitarist Lindsey Buckingham hadn't posted about her death. And her former husband, bassist John McVie, doesn't appear to have a social media presence.
Other celebrities offered their own Twitter tributes.