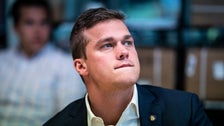 The 27-year-old soon-to-be-former-congressman has reportedly laid low since losing a Republican primary, even vacating his Washington and district offices nearly two months before the end of his term, according to the Asheville Citizen-Times.
Still, he took to the House floor for one last time on Wednesday to rally his soon-to-be-former colleagues against (checks notes, again) "soft metrosexuals":
"Our young men are taught that weakness is strength, that delicacy is desirable, and that being a soft metrosexual is more valuable than training the mind, body, and soul," Cawthorn claimed, adding that "social media has weakened us, siphoning our men of their will to fight."
Cawthorn said that "on this precipice of disaster," he wanted to "ask the young men of this nation a question. Will you sit behind a screen while the storied tales of your forefathers become a myth? Or will you stand resolute against the dying light of America's golden age?"
"Will you become a man to be feared, to be respected, to be looked up to? Or will you let this nation's next generation be its final generation?" he asked.
You can see the remarks below.
Many people might find Cawthorn's criticism of "soft metrosexuals" ironic since there are videos of him engaging in acts that lean toward the "soft metrosexual" spectrum.
He claimed he was trying to be funny with a friend, and they "were acting foolish and joking. That's it."
Still, Twitter users had thoughts.