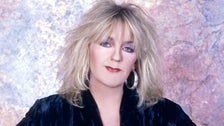 Her family announced the news on her official Facebook page, saying she died in the hospital on Wednesday morning.
″[W]e would like everyone to keep Christine in their hearts and remember the life of an incredible human being, and revered musician who was loved universally," the family said in a statement.
Fleetwood Mac also posted to McVie's Facebook page, saying she was "one-of-a-kind, special, and talented beyond measure."
This is a developing story. Please check back for updates.