[ad_1]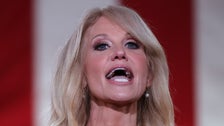 Former Trump administration White House adviser Kellyanne Conway said she heard last year about "some kind of sexual allegations" against GOP Nebraska gubernatorial candidate Charles Herbster — but she's working to get him elected anyway.
Conway alleged on Steve Bannon's "War Room" podcast that groping allegations raised by eight women, including a Republican state senator, were somehow cooked up by current Republican Gov. Pete Ricketts, who does not support Herbster, a corporate CEO who has never held office. Watch Conway on "War Room" in the video below.
Ricketts "got in my face" 10 months ago vowing to "destroy Charles Herbster," said Conway. She offered nothing else in the way of proof that Ricketts is behind the assault accusations.
As I was … walking to my table, I felt a hand reach up my skirt, up my dress and the hand was Charles Herbster's," Slama said, her voice shaking, in an interview on News Radio KFAB in Omaha. "I was in shock. I was mortified. It's one of the most traumatizing things I've ever been through."
Slama added: "I watched as five minutes later he grabbed the buttocks of another young woman. … This was witnessed by several people at the event."
Slama talked of the intimidating, "huge power differential" making it difficult to speak out against "one of the biggest donors in the Nebraska Republican Party."
Herbster has denied the accusations as "libelous fake news" and last week announced he has sued Slama for slander.
As of Friday, Slama had not been served with a lawsuit, her legal team said in a statement. "To be sure, any claim that calls into question Senator Slama's well-corroborated account of her sexual assault by Charles Herbster would be categorically without merit and frivolous," the statement added.
All of the alleged incidents occurred between 2017 and this year. Victims ranged in age from teens to their 20s, according to the Examiner.


[ad_2]